This page contains general information about how to receive stock and deliveries into your system. Many customers often have more customised and specialised processes, and details of how that process is to be used may invalidate some of the information below.
Jump To: Creating a Purchase Order | Receiving a Purchase Order | Receiving an Unexpected Delivery | Entering Document Details Receiving a Store Transfer Stocktakes

Scanned Document
How to scan an invoice and receive stock using the scanned image directly
Entering Document Details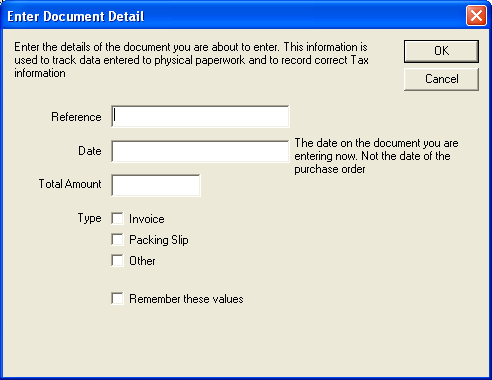 The first step in receiving stock into the system for both purchase order deliveries and unexpected deliveries is to enter some overview information about the document you are keying. The screen that will appear is shown to the right.
Depending on your system configuration, some or all of these fields are required.
Reference This is the primary unique identifier on the document, such as invoice# or packing slip#. Generally these numbers are unique from each supplier, but this is not a requirement. If you enter a reference number/value that has already been used for this supplier, the system may block or warn you depending on setup.
Date The date on the document. This is not the date you are entering information, but the date on the document. This field is required as the exact date of a document can impact cost and tax calculatons.
Total Amount The absolute total of everything on the invoice, including all taxes. This is the amount you will eventually have to pay. This amount may be required on some configurations as the capture process coming next attempts to ensure all the individual lines total to this figure.
Type What type of document are you entering.
Remember these values Sometimes, some stores will capture a large invoice in several attempts, which can be a good idea if it will take hours to enter. By ticking this box, the values entered above are temporarily stored and will be loaded as the defaults for this screen next time.

Receiving an Unexpected Delivery
Once you have completed the document detail screen (above) the main entry screen will appear. Before you enter items, you MUST enter the amounts for freight and packaging if these are listed as seperate line items. This information is required before entering products as these charges will generally be spread across the items you are receiving and once this starts, the freight/packaging amounts cannot be changed.
Freight and packaging can be listed on invoices either "inclusive tax" or "exclusive tax", both are in common use and you will need to indicate to the system whether the amount(s) you enter are including tax or not. There is a small tick box under the freight and packaging fields to indicate tax included.
Freight Example #1
| | |
| --- | --- |
| Ext Total | 89.04 |
| Freight | 7.25 |
| Sub Total | 96.29 |
| GST | 14.45 |
| Invoice Total | 110.74 |
In this example, the "freight" figure would be entered as "7.25" and the "Inc Tax" unchecked. This is because the freight amount has GST applied onto it
Freight Example #2
| | |
| --- | --- |
| Total | 725.50 |
| GST | 108.83 |
| Freight | 57.00 |
| Total | 891.33 |
In this example, the "freight" figure would be entered as "57.00" and the "Inc Tax" would be checked. This is because in this example freight is already including GST
When you are ready to enter the items, you can scan the barcodes or manually select items.
To manually enter items, click into the blue "PLU" field and press the "insert" key. A product finder will be displayed. Alternatively, you can hold down the ctrl-key while pressing "insert" and a search by supplier PLU screen will be shown instead.

Click for Technical Information on this screen

---